Alumnus Alexander Edelmann becomes principal double bassist of the Israel Philharmonic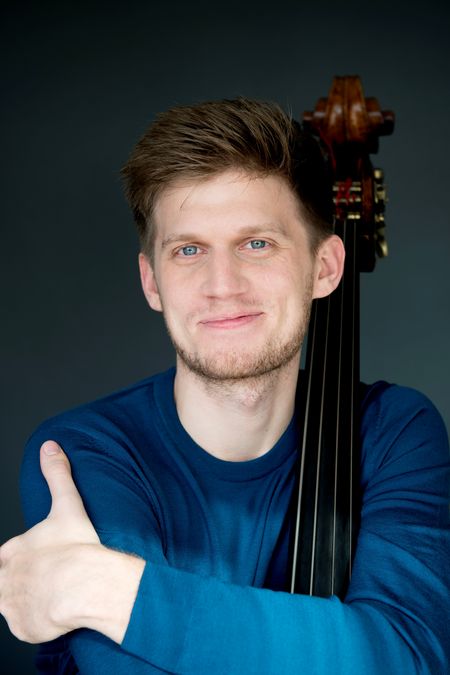 The Israel Philharmonic Orchestra has appointed Alexander Edelmann as its new principal double bassist. In October he will take up his position in Israel. The Eisler alumnus completed his master's degree with Prof. Matthew McDonald.
The American double bass player Alexander Edelmann also studied at Boston University, at the Robert Schumann Hochschule in Düsseldorf and at the Kronberg Academy and collected further artistic impulses from Edwin Barker, Janne Saksala, Esko Laine, Hermann Stützer and David Allen Moore.
As a principal double bass player he played in the Frankfurt Opera and Museum Orchestra, Royal Danish Orchestra, Royal Swedish Opera Orchestra, in the Deutsche Kammerphilharmonie Bremen, in the Mahler Chamber Orchestra, in the Philharmonic Orchestra Helsinki, in the Kremerata Baltica and as a guest in the bass group of the Berliner Philharmoniker.
As a soloist he appeared with the Baden-Baden Philharmonic Orchestra with the double bass concert by Nino Rota, in the Dortmund Konzerthaus with the Vanhal double bass concert and with the Leopold Mozart Chamber Orchestra of the Sinfonia Concertante by Carl Ditters von Dittersdorf.
As a chamber musician, his chamber music partners include Antje Weithaas, Tabea Zimmermann, Antoine Tamestit, Augustin Dumay, Jan Vogler, Marie-Luise Neunecker, Louis Lortie, the Notos Quartet and members of the Armida and Artemis Quartet.