Annie Jacobs-Perkins and Dina Ivanova honoured with Pierre Fournier Award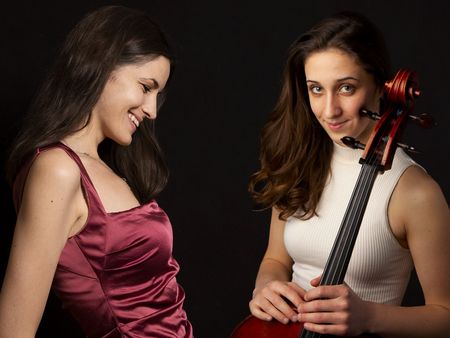 Cellist Annie Jacobs-Perkins has won the prestigious Pierre Fournier Award in London as a duo with pianist Dina Ivanova. The final round took place on 4 May at the Wigmore Hall in London. At the Eisler, Annie Jacobs-Perkins and Dina Ivanova study in the Master's programme with Prof. Troels Svane and Prof. Kirill Gerstein, as a duo they are coached by Prof. Jonathan Aner.
The Pierre Fournier Award includes several performances as well as film and sound recordings, including a duo evening at London's Wigmore Hall with film recording in 2024, a CD production, a concert performance with the Philharmonia Orchestra as well as further chamber music performances in cooperation with Oxford May Music and the Manchester Mid-Day Concerts Society.
Since 2009, the Pierre Fournier Award has been offered worldwide; previously, since 1990, the competition was open only to cellists living or studying in the United Kingdom. The aim of the award is to support exceptional talent with performances and recordings.
The American cellist Annie Jacobs-Perkins is a very versatile artist who breaks new ground in her interdisciplinary work - with painting, dance, visual arts and fashion. In 2022, she commissioned composers Stratis Minakakis and Daniel Temkin to write two works for cello and piano on the climate crisis. She is already working with composers such as Timo Andres, Brett Dean, Konstantia Gourzi, Jessie Montgomery, Jeffrey Mumford and Jörg Widmann. In the fall of 2023, she will be artist-in-residence at the EstOvest Festival Contemporary Cello Week in Turin, as well as artist-in-residence at the Austin Chamber Music Center in Austin, Texas.
Annie is principal cellist with Joshua Weilerstein's Phoenix Chamber Orchestra and has performed as principal cellist with the Colorado Music Festival Orchestra, USC Thornton Symphony, and New England Conservatory Philharmonia. A multiple winner of prestigious competitions, she was Young Artist-in-Residence on NPR's Performance Today in 2021. With Trio Brontë, she most recently won 1st prize at the 2023 Ilmari Hannikainen Piano Chamber Music Competition. She regularly participates in festivals such as Marlboro Music, Krzyzowa Music, Ravinia Steans Music Institute, Yellow Barn, Piatigorsky International Cello Festival and Perlman Music Program.