Anton Schultze, Lucie Krysatis and Jakob Hutterer gain orchestral positions in Lübeck, Hamburg and Vienna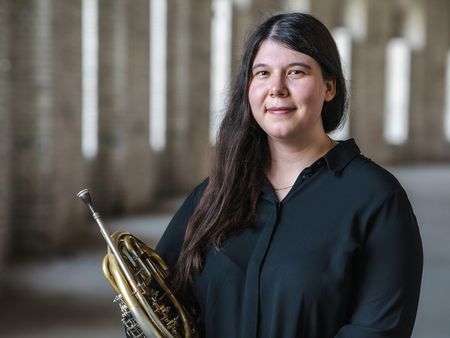 Once again, three students from Prof. Sybille Mahni's horn class won auditions for permanent orchestra positions
The 26-year-old horn player Anton Schultze, who has been studying for a master's degree at the Eisler since 2020, won the audition for the position as solo horn player in the Lübeck Philharmonic Orchestra in June 2022 and began his first service in August 2022. He has already gained orchestral experience in the Academy of the Bavarian State Orchestra, as a member of the Reflex Ensemble and as a temporary assistant in various well-known orchestras such as the Konzerthaus Berlin, the Potsdam Chamber Academy and the WDR Symphony Orchestra in Cologne.
The 25-year-old Luxembourg horn player and master's student Lucie Krysatis was also able to hold her own in an audition for a position with the Hamburger Symphoniker and has been engaged there as principal horn player since the 2022/23 season. In Hamburg, parallel to her studies in Berlin, she has been completing the academy in the NDR Elbphilharmonie Orchestra since 2021. She was also a member of the European Union Youth Orchestra and played as a substitute with the Munich Symphony Orchestra.
Another success was achieved by the 26-year-old horn player Jakob Hutterer, who auditioned for position first and third horn in the ORF Vienna Radio Symphony Orchestra in November 2022. He was also previously engaged in several orchestras as an academic and with temporary contracts, for example in the Nuremberg State Philharmonic, the orchestra of the Theater am Gärtnerplatz in Munich and the Staatskapelle Dresden. He has been studying for a master's degree at the Eisler since 2020.