Benefit concert with Tabea Zimmermann and Kirill Gerstein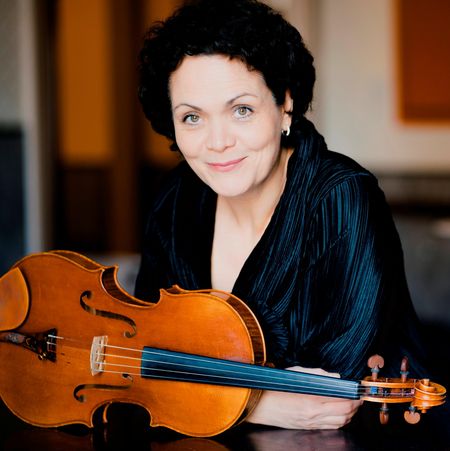 MO 10. OCT 2022 | For the benefit of the Center for Chamber Music of the Hanns Eisler School of Music Berlin
The violist Tabea Zimmermann and the pianist Kirill Gerstein are among the outstanding personalities of the international music world, and as professors they teach at the Eisler in Berlin. Together they play in an exclusive benefit concert at the university, the proceeds of which go to the newly founded center for chamber music at the university. The program includes works for viola and piano by Brahms, Hindemith, Clarke and Shostakovich.
Tabea Zimmermann travels the world as a chamber musician and soloist. In 2020 she received the highly renowned Ernst von Siemens Music Prize, saying she had "become the epitome of almost incorruptible music-making, for an authentic, personal attitude", which she has also successfully conveyed to the younger generation for years. They have already released joint recordings with Kirill Gerstein as chamber music partners. The Russian-American pianist has been teaching at the Eisler since 2018 and is considered a musical "transducer between the worlds" of classical and jazz. He is a regular guest with the major American and European orchestras, and in Berlin he was last seen at the end of the season with the Berlin Philharmonic in the Waldbühne.
Center for chamber music of the Eisler
"In chamber music, the excellence of the solo training is combined with the common ground in ensemble playing," says Prof. Wolfgang Redik, who teaches string chamber music and is in charge of the chamber music center. For several years now, the Hanns Eisler Academy of Music in Berlin has been explicitly promoting chamber music training with professorships in various areas of this genre, and with the new "Centre for Chamber Music" it wants to further develop a decade-long tradition at the Academy. Many outstanding, internationally successful ensembles have already emerged from the Eisler. The students - in the master's or concert exams - get a broader professional perspective with this training with an extended range of events and performance opportunities.
►►Advance sales begin on September 1, 2022.
MO 10. Oktober 2022 | 19:30 H | Krönungskutschen-Saal
Johannes Brahms: Sonate für Viola und Klavier op. 120 Nr. 1 f-Moll
Paul Hindemith: Sonate für Bratsche und Klavier op. 11 Nr. 4
Rebecca Clarke: Sonate für Viola und Klavier
Dmitri Schostakowitsch: Sonate für Bratsche und Klavier op. 147
Tabea Zimmermann Viola
Kirill Gerstein Klavier