M♀ZART Chamber Music Festival and opening of the new "Centre for Chamber Music"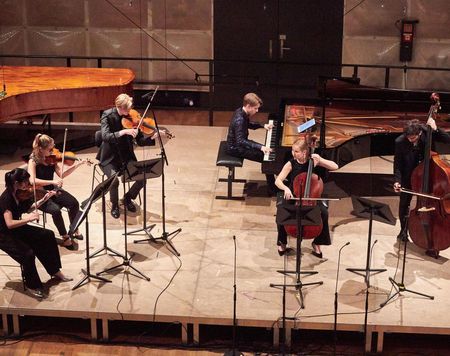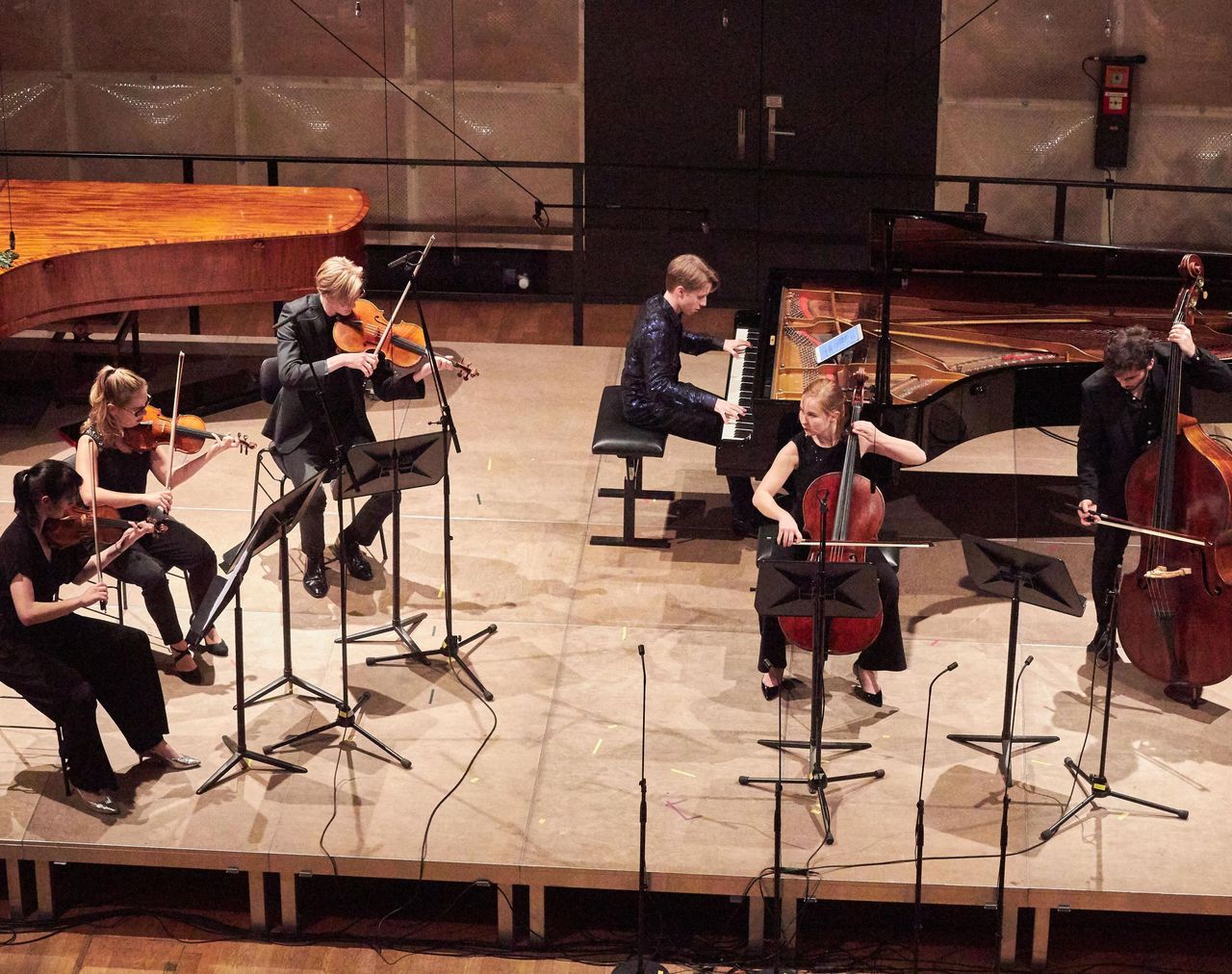 With the chamber music festival "M♀ZART", the Hanns Eisler School of Music Berlin opens its new "Centre for Chamber Music". For three days from July 1st to 3rd, the Eisler celebrates chamber music and has selected treasures by rarely performed composers from various eras as well as works by Wolfgang Amadeus Mozart.
"I never thought a woman could write something like that. She knows all the clever tricks of the composer's craft," Camille Saint-Saëns marveled in 1891 about the composer Mel Bonis. What was meant as a compliment at the time makes it clear how little the male-dominated society of that time thought of female composers. So the rich work of women composers is still largely unknown to the public - wrongly so. In order to open the doors to this music, the artistic director Prof. Jonathan Aner and other contributors worked on the sheet music for the festival, sometimes with considerable effort - for works by Cécile Chaminade, Anna Amalia von Sachsen-Weimar, Mel Bonis, Louise Farrenc, Sofia Gubaidulina , Grażyna Bacewicz, Annette Schlünz and others. In addition, demanding chamber music works by Mozart, which surprisingly are far too seldom played at the academy, are a focus of this first edition of the festival.
The Korean and Eisler student Saemi Jeong received a composition commission from the festival. Her work for prepared piano, viola and clarinet and a saxophone quartet by saxophone student Lilly Paddags are premiered. The musicologist Eva Rieger, who became a pioneer with her research work on the role of women in music culture, will give a lecture.
In addition to professors from the university, including Wolfgang Redik, Eva Schönweiß, Wolfram Rieger, Sibylle Mahni, Stephan Forck, Viola Wilmsen and Martin Spangenberg, students from the university play and sing, including Dominika Kościelniak, Julius Asal, Inmo Yang - who has just won the renowned Jean Sibelius Violin Competition 2022 - and Onutė Gražinytė, as well as the Synergia Piano Trio, Trio Orelon, Trio Tempestoso and Elaia Quartet.
Chamber Music Center
"In chamber music, the excellence of solo training is combined with the common ground in ensemble playing," says Prof. Wolfgang Redik, who teaches string chamber music. For several years now, the Hanns Eisler School of Music Berlin has been explicitly promoting chamber music training with professorships in various areas of this genre, and with the new "Centre for Chamber Music" it wants to further develop a decade-long tradition at the university. Many outstanding, internationally successful ensembles have already emerged from the Eisler. With this training, the students - in the Master's or Konzertexamen - receive a broader professional perspective with an extended range of events and performance opportunities.
---
FR 1.7.2022 | 19:30 H | Eröffnungskonzert | Krönungskutschen-Saal | € 10.- ERM 5.-
Neuer Marstall, Schloßplatz 7, 10178 Berlin
Werke von Wolfgang Amadeus Mozart, Saemi Jeong (UA), Herzogin Anna Amalia von Sachsen-Weimar
Mitwirkende: Julius Asal, Sofia Zamora, Sophie Pardatscher, Joseph Longstaff, Luka Mitev, Stefan Drees und Saemi Jeong, Julius Engelbach, Bella Chich, Jonathan Aner, Dominika Kościelniak, Wolfram Rieger, Viola Wilmsen, Jian Kim, Martin Spangenberg, Joshua Jacob, Sibylle Mahni, Helene Fleuter, Volker Tessmann, Esko Laine
Tickets und Details
SA 2.7.2022 | 10 H | KKS | Eintritt frei
Werke von Wolfgang Amadeus Mozart, Lilly Paddags, Lili Boulanger, Sofia Gubaidulina und Emilie Mayer
Mitwirkende: Lucie Krysatis, Eva-Christina Schönweiß, Arnold Stieve, Yeunwoo Park, Wayne Foster-Smith, Saxolin Quartett, Trio Orelon, Dominika Surzyn, Benedek Devich, Chia Yu Lin, Elaia Quartett
Details
SA 2.7.2022 | 15 H | KKS | Eintritt frei
Werke von Wolfgang Amadeus Mozart, Isabel Mundry, Sofia Gubaidulina, Rebecca Clarke
Mitwirkende: Ast Quartett, Emma Viellard Goillot, Filip Orkisz, William Forman, Marco Malatesta, Synergia Piano Trio
Details
SA 2.7.2022 | 17 H | KKS | Vortragskonzert | Eintritt frei
Vortrag von Prof. Dr. Eva Rieger: "Unsichtbare Barrieren: Mozarts Schwester"
Werke von Cécile Chaminade und Grażyna Bacewicz
Mitwirkende: Roman Tulchynsky, Marei Schibilsky, Julia Stephan, Inmo Yang, Shin Sihan, Noga Shaham, Stephan Forck
Details
SA 2.7.2022 | 19 H | KKS | Festkonzert | € 10.- ERM 5.-
Werke von Wolfgang Amadeus Mozart, Louise Farrenc, Amy Beach und Alison Bauld
Mitwirkende: Stephan Picard, Sonja Bogner, Sophie Kiening, Christian Standridge, Emma Portier, Janos Wollenweber, Joshua Jacob, Sara Caldu, Till Weder, Birgitta Wollenweber, Frieda Jolande Barck, Nanami Nomura, Wolfgang Redik, Jinju Yang, Grace Sohn, Mengjie Han
Karten und Details
SO 3.7.2022 | 10 H | KKS | Abschlussmatinee | Eintritt frei
Werke von Wolfgang Amadeus Mozart, Mel Bonis, Annette Schlünz, Wonju Lee, Hyeyoung Cho
Mitwirkende: Xunyue Zhang, Sophie Shen, Su Yeon Lee, Maria Lourenço Pinheiro, Onutė Gražinyte, Trio Tempestoso, Youngin Lee, Songyeon Catarina Kim, Clarissa Bevilacqua, Annette Jakovcic, Giorgio Lazzari
Details