German Tcakulov appointed to a professorship in Karlsruhe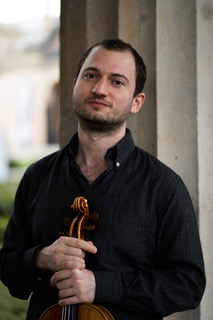 The Karlsruhe University of Music has appointed the violist and Eisler graduate German Tcakulov to a professorship in viola, from the winter semester 2022/23. German Tcakulov studied at the Eisler with Prof. Tabea Zimmermann. He has been a member of the Bavarian Radio Symphony Orchestra since 2018.
German Tcakulov began his musical education in his hometown of Vladikavkaz/Russia and in St. Petersburg. At the age of 21 he moved to Germany to complete his bachelor's and master's degrees at the Hanns Eisler School of Music Berlin.
From 2017 to 2022 German Tcakulov had a teaching position at the Eisler and was an assistant in Tabea Zimmermann's class. In 2021 he took over his own viola class at the University of Music and Performing Arts in Munich.
In 2014/15 he received a scholarship from the Orchestra Academy of the Staatskapelle Berlin, in 2013 he received a scholarship from the Lucia Loeser Kulturfonds, and he is a prizewinner at the International Chamber Music Competition »Charles Hennen«, the International Youth Competition in Jyväskylä, Finland, and the Mrawinsky Competition in Saint Petersburg. In 2015 he received the startup!music award from the Society of Friends and Sponsors of the Hanns Eisler School of Music Berlin.
Since his student days, he has also dedicated himself to chamber music and has performed at various festivals, such as the International Summer Academy for Chamber Music in Lower Saxony, the Mecklenburg-Western Pomerania Festival and the Otzberg Summer Concerts. His chamber music partners include Stephan Forck, Ulf Wallin, Tabea Zimmermann, Claudio Bohórquez, Stephan Picard and Frank van de Laar.