Violinist Seiji Okamoto wins First Prize at the ARD Music Competition in Munich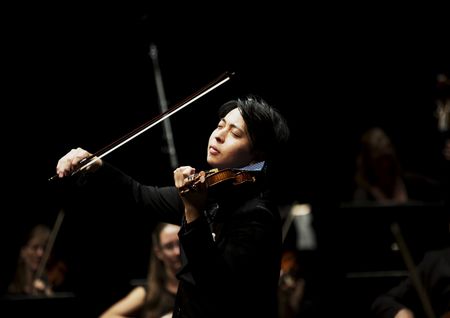 At the 70th International ARD Music Competition, the jury awarded the first prize to Seiji Okamoto (27) from Japan at the final in the violin category on September 12th in the Herkulessaal in Munich. Seiji Okamoto is a graduate of Hanns Eisler and completed his master's degree in 2019 with Prof. Antje Weithaas. The Süddeutsche Zeitung already described its Beethoven interpretation in the semifinals as "elegant with clear articulation". Seiji Okamoto "built Pierre Boulez 'splintery" Anthemes "piece with aplomb and impressed with a superbly performed D minor sonata by Robert Schumann."
In the prizewinners concert of the ARD Music Competition on Friday, September 17th, Seiji Okamoto will play Paul Hindemith's violin concerto with the Bavarian Radio Symphony Orchestra under the direction of Radoslaw Szulc in the Herkulessaal. The winners of the ARD Music Competition will also present themselves to a large audience in the Prinzregententheater on Wednesday, September 15 with the Munich Radio Orchestra under the direction of Matthias Foremny and on Thursday, September 16 with the Munich Chamber Orchestra.
A total of 626 applications from 54 countries and four continents were submitted for the ARD Music Competition in the subjects piano duo, horn, voice and violin. The music competition is one of the most important cultural promotion projects for public broadcasters. The award winners receive concert engagements at festivals, orchestras and the concert series of the ARD state broadcasters, are invited to CD recordings and can present themselves at the ARD award winners' festival the following year. The concerts are broadcast live or time-shifted by BR Klassik and in all ARD state broadcasters as well as in the video live stream and can be found in the media library.