1st prize for piano trio of the ARD Music Competition goes to Trio Orelon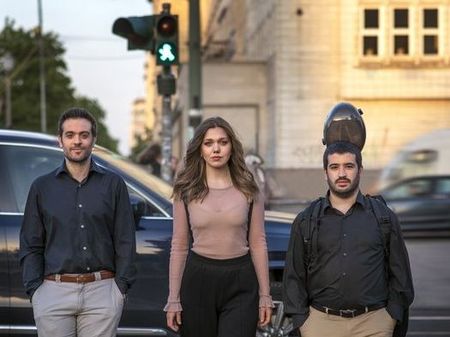 Once again, the Trio Orelon with Eisler alumnus and pianist Marco Sanna has been awarded at one of the most internationally renowned music competitions: In Munich, the piano trio was awarded 1st prize and the audience prize at the International ARD Music Competition, having already won the Melbourne International Chamber Music Competition in Australia in July.
Trio Orelon with Judith Stapf (violin), Arnau Rovira Bascompte (cello) and Marco Sanna (piano) has already performed successfully internationally. It was artistically supervised by Prof. Jonathan Aner at the Centre for Chamber Music at the Hanns Eisler School of Music Berlin, and since 2022 has been studying with Prof. Thomas Hoppe at the Folkwang University of the Arts in Essen.
In 2023, the trio also won 2nd prize at the Pinerolo e Torino Città metropolitana International Chamber Music Competition in Italy and 1st prize at the 11th Franz Schubert and Modern Music International Competition in Graz in 2022. Founded in Cologne in 2018, the piano trio Orelon traces its name back to the Esperanto word "Orelon" for "ear" to symbolise the many aspects of hearing in music.
On its concert tours through Europe, Trio Orelon performs in renowned concert halls, including the Tonhalle Düsseldorf, the Alte Oper Frankfurt, the Konzerthaus Berlin, Beethoven-Haus Bonn and Gewandhaus Leipzig. The three musicians devote themselves to classical repertoire in combination with lesser-known and undiscovered works. In the course of repertoire research, they developed the project "Beethoven's Daughters", dealt with the little-performed literature of female composers and related them to their ancestor Ludwig van Beethoven in moderated concerts.
In the summer of 2022, the trio's debut CD with works by the American composer Amy Beach was released on the "Da Vinci Classics" label to high praise in the press. The recording was "CD of the Week" on SR2 Kulturradio and rbb kultur.