Nodoka Okisawa Chief Conductor of the Kyoto Symphony Orchestra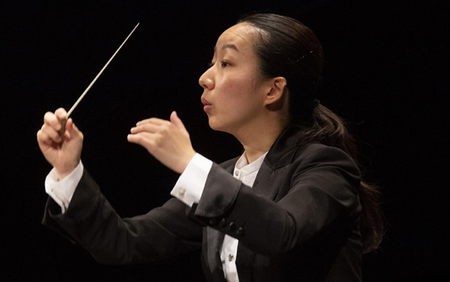 The Japanese Eisler alumna Nodoka Okisawa has been appointed Chief Conductor of the City of Kyoto Symphony Orchestra. Starting in March 2023, she will lead the renowned Japanese orchestra in subscription as well as education and family concerts during her initial three-year term. In addition, she will be artist in residence with the Munich Symphony Orchestra during the 2022/23 season. Nodoka Okisawa studied at the Eisler with Prof. Hans-Dieter Baum and Prof. Christian Ehwald and completed her Master's degree in Berlin in 2019.
Nodoko Okisawa is the winner of the prestigious Concours international de jeunes chefs d'orchestre de Besançon 2019, where she was awarded the "Grand Prix" as well as the Orchestra Prize and Audience Prize. Already in 2018, she won the Tokyo International Music Competition for Conducting, one of the most important international conducting competitions.
From 2020 to 2022, Nodoka Okisawa was a scholarship holder at the Karajan Academy of the Berlin Philharmonic and assistant to Maestro Kirill Petrenko. In addition to her own concert projects together with the academy members of the Berliner Philharmoniker, in March 2022 she conducted the Solidarity Concert for Ukraine with members of the Berliner Philharmoniker at the invitation of Federal President Frank-Walter Steinmeier in Bellevue Palace. Another highlight was the joint anniversary concert with Kirill Petrenko to mark the 50th anniversary of the Karajan Academy in May 2022.
Highlights of the current season include her subscription debuts with the Melbourne Symphony Orchestra, Orquesta de València, Orquesta de Extremadura, Real Filharmonía de Galicia, Yomiuri Nippon Symphony Orchestra, among others. She also regularly conducts the NHK Symphony Orchestra, New Japan Philharmonic, Tokyo Symphony Orchestra, Japan Philharmonic Orchestra, Orchestra Ensemble Kanazawa and the Noord Nederlands Orkest.