Bruno Meichsner permanent member of the Rundfunkchor Berlin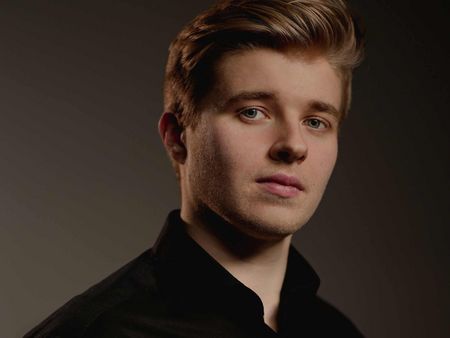 Bruno Meichsner, lyric baritone and Master's student in the class of Prof. Stephan Rügamer, has been elected as a permanent member of the Rundfunkchor Berlin with the start of the 2023/24 season. Previously, he was engaged as a choral soloist in the choir of the Komische Oper Berlin in the 2022/23 season.
Working with directors such as Herbert Fritsch, Andreas Homoki and Barrie Kosky, he received valuable artistic impulses and gained experience on the opera stage. During his engagements with renowned choirs such as the Rundfunkchor Berlin and the RIAS Kammerchor Berlin, he worked with conductors such as Robin Ticciati, Justin Doyle and Stanley Dodds. In concert he has sung baritone and bass parts in various oratorios and requiems by Bach, Brahms, Fauré and Saint-Saëns with the Bach Collegium Berlin and the Neues Kammerorchester Potsdam.
At the Eisler he appeared as soloist and choral soloist in several university productions and music theatre workshops, such as in the opera "Il mondo della luna" by Joseph Haydn in the role of the servant Pasquino, in "Dido and Aeneas" by Henry Purcell, in "Curlew River" and "A Midsummernight's Dream" by Benjamin Britten and in "The Magic Flute" as the bird catcher Papageno.
He received further impulses for his musical education at the Eisler with Prof. Britta Schwarz, Prof. Wolfram Rieger and Prof. Martin Bruns as well as with Kammersänger Robert Holl.