Trio Brontë wins 1st Prize of Ilmari Hannikainen Piano Chamber Music Competition 2023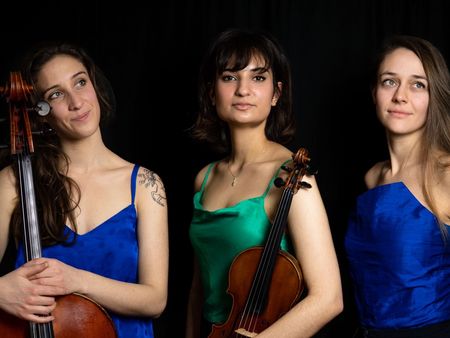 The Trio Brontë with Ava Bahari, Lili Bogdanova and Annie Jacob-Perkins has won 1st prize at the Ilmari Hannikainen International Piano Chamber Music Competition in Finland. The prize is worth 10,000 euros and is supported by the Finnish Ministry of Education and Culture, among others. 20 international ensembles qualified for the competition. In the final round, the trio played Beethoven's Triple Concerto with the Jyväskylä Sinfonia conducted by Jan Söderblöm.
The Swedish violinist Ava Bahari studies in the class of Prof. Kolja Blacher, the Bulgarian pianist Lili Bogdanova with Prof. Eldar Nebolsin and the American cellist Annie Jacob-Perkins with Prof. Troels Svane. As a trio they are studying with Prof. Jonathan Aner. Participation in the competition was made possible with the support of the Friends and Patrons. In addition, Lili Bogdanova is supported by the Lucia Loeser Scholarship, Ava Bahari received the Germany Scholarship and Annie Jacob-Perkins was a scholarship holder of the Ottilie Selbach Redslob Foundation.