Honorary professorship for Bettina Auer at the Hanns Eisler School of Music Berlin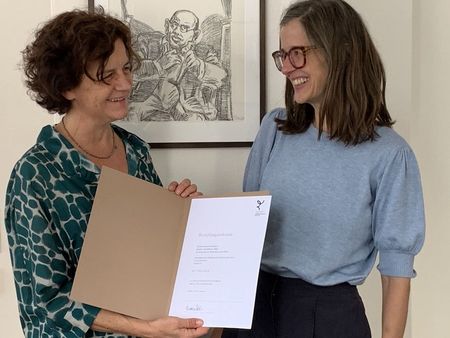 The Hochschule für Musik Hanns Eisler Berlin appoints freelance production dramaturg Bettina Auer as honorary professor. Prof. Bettina Auer has been teaching the subject of conception as an adjunct lecturer in the Directing and Production Dramaturgy degree programmes since 2005. For years, she has been providing students with valuable insights and practical knowledge in music theatre production, job shadowing and assistant directing in her productions as well as contacts within her extensive network in the opera world that promote the artistic development of students.
In addition to permanent engagements as music dramaturge as well as chief dramaturge at the theatres in Bern, Darmstadt, Basel and at the Komische Oper Berlin, Bettina Auer has made guest appearances at the Zurich Opera House, Burgtheater Vienna, Deutsche Oper Berlin, the Israel Festival in Jerusalem and Schauspiel Köln. Since 2012, she has worked as a freelance production dramaturg at the Amsterdam Opera, the Teatro Argentino, the Antwerp Opera, the Salzburg Festival, the Berlin Philharmonic, the National Theatre Oslo, Theater an der Wien, the Oslo Opera, the Vienna State Opera, the Bavarian State Opera, the Teatro Arriaga in Bilbao, the Hamburg State Opera and the Opera national de Paris.