Mozarteum announces new viola professors Muriel Razavi and Sào Soulez Larivière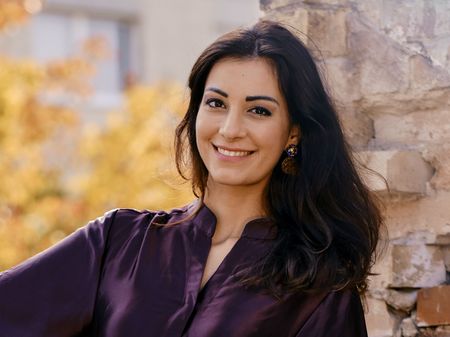 Eisler alumni Muriel Razavi and Sào Soulez Larivière have been appointed to viola professorships at the University Mozarteum Salzburg as of autumn 2023. Both completed their bachelor's degree at the Eisler with Prof. Tabea Zimmermann. Muriel Razavi also teaches at the Staatliche Hochschule für Musik Trossingen.
The American-Iranian violist Muriel Razavi is one of the most promising musicians of her generation. As a member of the West Eastern Divan Orchestra under the direction of Daniel Barenboim and the soloist ensemble "Mutter's Virtuosi" under the musical direction of violinist Anne-Sophie Mutter, she performs worldwide. She was deputy principal violist of the MDR Symphony Orchestra Leipzig. The violist studied with renowned professors such as Tabea Zimmermann, Nils Mönkemeyer and Tatjana Masurenko and completed her master's degree with Prof. Wilfried Strehle at the Berlin University of the Arts in 2019 with top marks.
Muriel Razavi also holds a Bachelor's degree in Iranian Studies from the Free University of Berlin and a Master's degree in "Religion and Culture" from Humboldt University Berlin. She is currently doing her doctorate at the Hamburg University of Music and Theatre under the artistic supervision of Daniel Barenboim on Re-Orientalism in contemporary music by Iranian female composers from the "Iranian Female Composers Association". Since the winter semester of 2022/23, she has been a Senior Lecturer at the Mozarteum University and an honorary mentor in the mentoringArts programme of the HfMT Leipzig for the professional preparation of students in the music business.
The French-Dutch violist Sào Soulez Larivière (25) studied in the class of Prof. Tabea Zimmermann from 2017 to 2022, after which he completed his Master's degree at the Kronberg Academy. In 2023, he was named Young Artist of the Year at the International Classical Music Awards (ICMA). For 2024/25 he was nominated as "Rising Star" by the European Concert Hall Organisation (ECHO) and will perform in major European concert halls.
He has won several times at international competitions, such as the Tokyo International Viola Competition 2022, the Oskar Nedbal Viola Competition 2020, the Max Rostal Competition 2019 and the Johannes Brahms Competition 2017. As a soloist, chamber and orchestral musician, he performs with various ensembles at concert venues throughout Europe. In 2021 he recorded his first solo album "Impression". Regular participation in academies at various festivals such as the Verbier Festival, the Kronberg Festival and the Schleswig-Holstein Musik Festival complements his musical education.